F.C. Internazionale
more F.C. Internazionale football formations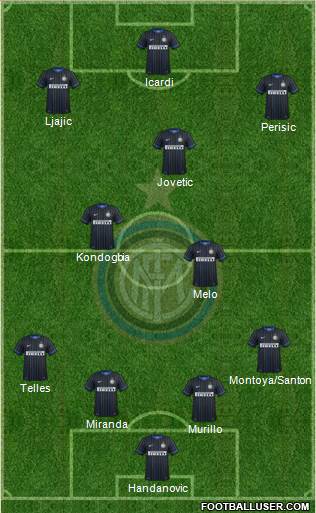 F.C. Internazionale players:
Handanovic
Murillo
Miranda
Telles
Montoya/Santon
Melo
Kondogbia
Jovetic
Perisic
Ljajic
Icardi
Share this 4-2-3-1 formation
direct link:
twitter and facebook link:
img code — copy and paste this to your forum:
use this link to create a F.C. Internazionale formation:
About this formation
The 4231 formation is perhaps the formation that suits this Inter team best if one were given the entire squad on a list and told to compile the best starting 11. It is a very versatile formation which gives the team the possibilities to swiftly morph from one form to another, for example with the wingers dropping back to form a 4411 or with them pushing forward to reach a 433 of sorts. The aspect of adaptability is very useful to this formation, because it makes it easy to morph from forms which allow great defense into forms which allow attacking openness.

The formation is fairly simple. You've got a lone striker in attack, as complete as possible, who can use his head (both figuratively and literally), is strong enough to keep the ball in possession for the others to run into space behind him and play them in, and is intelligent and mobile enough to move around himself in order to break the structure of the defensive duo/trio of the opponent.
Behind him are 3 players, who of which are most often wide players and one is a classic Trequartista (most often the primary attacking outlet of the team). It is the role of the central player to link midfield to attack and to find the space created for the striker and the lateral attacking midfielders. It is also very useful if he can score himself, especially from long range.
In midfield, depending on the quality and structure of the rest of the team, it is advisable to have players who can out-muscle their opponents, one of which should preferably be a classic defensive midfielder who doesn't run too far ahead to provide help in attack. With the stability provided by such midfield, the attacking midfielders are free to roam ahead and swap positions between each other at will, and this also leaves some space for the full backs to help as well, providing more width in the attacking phase. Having a quality trequartista who can find attacking options within a second in such conditions is vital as it can create devastation in the opponents' defense.

The weaknesses of this formation arise if your opponent has good wingers, since the space left in your lateral areas will be easy to expose. With the attacking midfielders most often staying ahead relying on the central midfielders, the full backs are either out of position themselves or are left alone to deal with a winger and potentially a marauding full back from the opponent's lines. The option of having one of the central midfielders go off position to cover the lateral areas (as it was the case in 433) is less likely here, since unlike in 433 where he would leave 2 other colleagues in midfield, here it would leave only 1, as the attacking midfielder falling back to cover would have little effect (not many trequartisti are capable of it). A good solution would be to have tireless wingers who can also fall back to deeper positions and prevent incisive moves down the sides.

The key roles included in this system are:
- The defensive midfielder(s) - anticipating, physically strong, and highly mobile. Not too engaged in the offensive phase, it's enough for him to be able to keep moving the ball around in transition to the more offensive players.
- The central midfielder - the more offensive of the midfield duo, but once again required to possess tactical discipline and not fall too far from his position. Good passing abilities are a bonus as he could circumvent the trequartista and wreak havoc from central midfield as well. He is the one that bosses the midfield before the ball goes in the final third where the trequartista is meant to make quick work of things.
- Winger - it's good that one of the lateral attacking midfielders has the role of a classic winger. This keeps the line wide and allows for either marauding full backs to overlap or for the trequartista, striker and other attacking midfielder to exploit more space. Good crossing is a big advantage for this player and so is dribbling.
- Inside forward - the other lateral attacking midfielder. Using the space created by the winger and striker spreading the line and getting into space where he can get balls from the trequartista. When he cuts inside, one can expect that the full back behind him will also run in to maintain the level of width. It's good for the inside forward to play on the side opposite of his preferred foot to be in a better position to shoot when in.
- The trequartista - fast on the ball and in the head. Creative, shooter, passer.

Applied to Inter:

This formation applied to Inter does look very good on paper.

The midfield obviously belongs to Melo as the defensive midfielder and Kondogbia as the hybrid who bosses the midfield, but can also provide great cover in defense himself.
The undoubted trequartista here is Jovetic, who with his incredible sense of space and great creativity can slice open defenses within the blink of an eye.
The winger would be Perisic on the right hand side and Ljajic on the left hand side would be the inside forward. I would go this way because Perisic is better at crossing than Ljajic, and Ljajic is closer to being a forward than Perisic. Also, Perisic is good on both feet so it won't be a problem for him to play with his right foot as a winger, and Ljajic will use his preferred right foot to finish off chances as he cuts inside. With Ljajic cutting inside, we'd have Telles running down the left to provide crosses and maintain width.
Icardi is fairly complete and has been evolving all the time since he arrived, so I doubt he will have any problems in doing any of the things that the striker is supposed to do in order to score himself and to create space for his teammates.
This looks fairly simple and incredibly effective.

But, some of the problems in this formation are as follows:
1. Jovetic being the main attacking outlet of the team means he will take a lot of beating. I hope that his reputation of being "made of glass" is exaggerated, because otherwise it won't take too long before he crumbles, and we don't have another player who can do justice to that position. Don't even mention Brozovic, please.
2. Kondogbia is not Fabregas, so don't expect too much to be created from the deep midfield positions. What you can expect, though is that he will shoot his ass off and will probably score a few from there.
3. The usual problem - full backs aren't complete players and will often create problems for the central midfield duo, dragging them out of position and leaving space to exploit for the opponents.

I'm not sure whether I would go with 433 or 4231; I would probably choose to exchange both formations depending on the system and quality of the opponent, but it is beyond doubt that Inter has the quality of the squad to play either. What is left now is that Mancini takes care of making this team click in both modules.
Comments
There are no comments yet. Click here to add your comment.